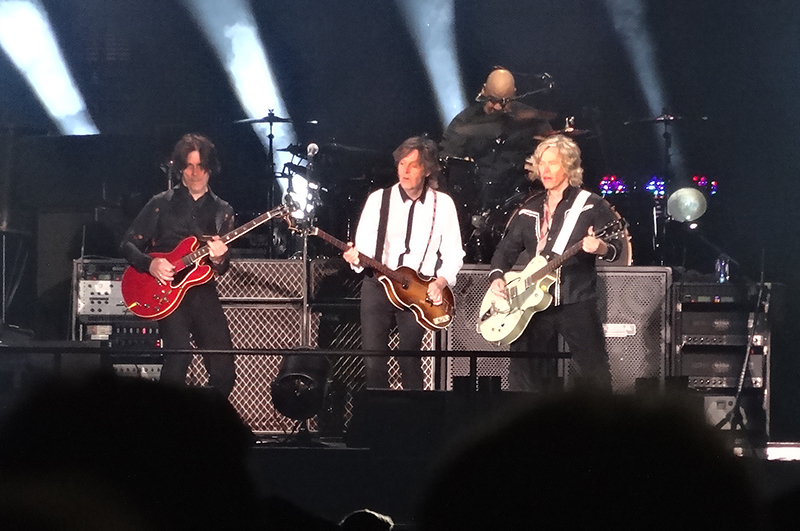 See more pictures in the gallery
There can only be one last show at Candlestick Park, and the fact that it was with arguably the most important song-writer alive, how could I say no?
Paul McCartney has history with this park. After all, it's where the Beatles played their last official show in 1966. From the look of the boomers in the crowd, he's been mostly playing to the same audience ever since.
We were the youngest people around for a good five rows in either direction. You could really tell the age of the crowd from the amount of worrying going on all around us, from the moment we got in line for the shuttle, to the moment we sat in our seats. Worry about getting there in time, worry about whether one could bring bags in, worry about what to do if Jim gets lost in the crowd when the show ends, worry about going up and down the stairs — if there's one thing boomers do best, it's worry.
They did, however, enjoy some special excitement when our shuttle bus driver squeezed on to the wrong side of the road and blew past the traffic to get us to the front door on time. It was the second best performance I saw that night.
One thing that was weird: the house music before the show was all remixes of famous Beatles songs. Rarely do you hear a playlist of music based on the artist you're about to see. The boomers ate it up.
We managed to buy seats that were directly behind a 7-foot-tall asshole that danced as though he were not tightly packed in a crowd of people. I pitied the people next to him as the show started who had to constantly avoid his elbows as he spread his arms in joyous celebration. This modern day Chapman was killing any chance they would have a good time.
He kicked it off with some old stuff, but cruised quickly into some newer things from New – the songs fit perfectly into his canon despite the 50 year age difference. The stage was fucking unbelievable. The whole thing was made of LED panels, so the graphics extended from the wall behind him, all the way on to the stage where they stood. Also, the LED walls were incredible, super high resolution screens like nothing I've ever seen at a touring show. At one point, the whole front of the stage lifted McCartney up about 15 feet, to reveal another panel while he played some solo acoustic songs. Brilliant rigging, and a beautiful performance.
One of the highlights of the night came after he cranked out a bit of "Foxy Lady" at the end of a track, in the form of a story about Hendrix that I'll paraphrase:
I was lucky enough to know Jimmy for a little bit when he came to London in 196X. We had just released a record called Sgt. Peppers Lonely Hearts Club Band, and we'd released it on Friday. His show was on Sunday, and he'd already learned how to play it, and we all went to see him and he kicked into it. But he did it all Jimmy Hendrix like, and he was using his whammy bar a lot *plays a chord and detunes it with his whammy bar* like that, you know? And back in those days, it would throw your guitar out of tune when you did that. So he goes to play the next song, and he's completely out of tune, and he looks out in the crowd, and he says, "Is Eric out there? Eric are you there?" talking about Eric Clapton of course. And Eric was there, but he was trying to hide, of course, and Jimmy spots him and he says, "Eric, can you come up here and tune this thing for me?"
Like a typical old man, it didn't really go anywhere, but the boomers ate it up. Then he told us, "I brought out this guitar because it's the one I used to play this song on the original recordings in the 60′s," before he played "Paperback Writer" on a pristine Gibson ES 335. That one guitar is worth more than everything I own and all my student loan debt combined. Gear lust, hard.
There were fireworks for "Live and Let Die," which really got the blood flowing for the over 60 crowd. He finished the first set with "Hey Jude," which is great because I was really concerned that would be the last song every played at this historic venue and it's pretty damned cheesy with the na na na's at the end. Thankfully, after two encores, he finished with "The End." Clever, McCartney, clever.
When the lights came up and the people began to disperse, quite a few stuck around to take it all in. We saw people with grass in ziploc bags, and others in full niners regalia, walking around the perimeter, sitting at center field. I walked on top of the home dug out, as many a mascot had done before and looked out at this legendary park one last time before we left for the night. On our way home, a guy on the bus who wasn't at the show told stories about the park: how he used to be a cushion boy and he'd get $0.25/cushion after the games, how he'd seen the Stones there, all the games he'd gone to at the Stick. Another guy showed us a sign he stole that said something about which direction one should walk. They'll remember the park, and all I'll ever know was the time I saw a Beatle say goodbye to an old friend on a cold night in Bayview.
Who's the greatest songwriter alive? Vote below!
Setlist (courtesy of SF Appeal):
Paul McCartney setlist:
Eight Days a Week
Save Us
All My Loving
Listen to What the Man Said
Let Me Roll It
"Foxy Lady" interlude
Paperback Writer
Nineteen Hundred and Eighty-Five
My Valentine
The Long and Winding Road
Maybe I'm Amazed
I've Just Seen a Face
San Francisco Bay Blues
We Can Work It Out
Another Day
And I Love Her
Blackbird
Here Today
New
Queenie Eye
Lady Madonna
All Together Now
Lovely Rita
Everybody Out There
Eleanor Rigby
Being for the Benefit of Mr. Kite!
Something
Ob-La-Di, Ob-La-Da
Band on the Run
Back in the U.S.S.R.
Let It Be
Live and Let Die
Hey Jude
Encore One:
Day Tripper
Hi, Hi, Hi
I Saw Her Standing There
Encore Two:
Yesterday
Long Tall Sally
Golden Slumbers
Carry That Weight
The End
Tags: beatles, candlestick park, concert, last show, paul mccartney
---