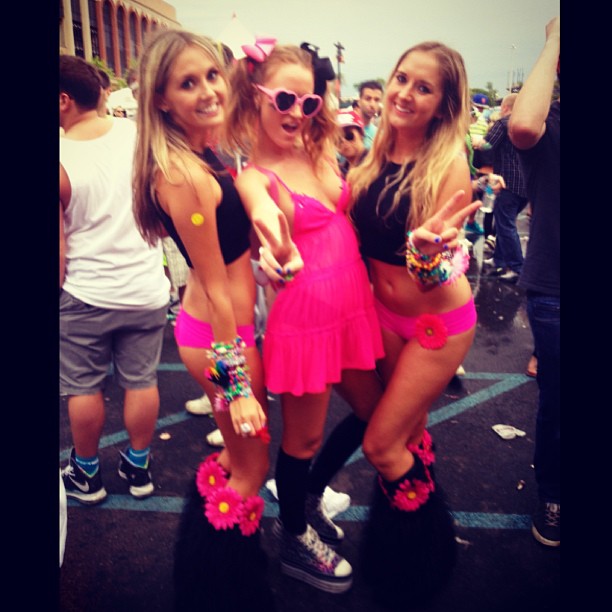 Is EDC the best electronic music festival in the U.S.?  Vote below!
It's that time of year again, when the girls dust off their neon spandex, the bros pull out their tanks, everyone loads up on beaded bracelets and ring pops and heads out to Las Vegas. For those of us who can't be there, we can still be there in spirit with this EDC webcast drinking game. View the official webcast here.
The EDC Webcast Drinking Game Rules
Drink when:
-They show someone in the crowd wearing neon
-Borgore says the phrase "Borwhores"
-They show someone sucking on anything, finish your drink
-If anyone mentions or plays any song by Daft Punk, finish your drink
-Drink the whole time Steve Aoki crowd surfs
-Someone plays an actual instrument live
-A-Trak scratches records
-They show Las Vegas
-You see anyone take molly, finish your drink
-A DJ says anything into the mic. If he says, "Are you still with me?" finish your drink
-There's pyrotechnics
-Diplo makes people take their shirts off
-They show a puppet during Mr. Oizo
-Anyone drops to half-tempo, in any song, ever.
-Someone you're with mentions that A-Trak and Dave from Chromeo are brothers
-They show Madeon playing a launchpad
-They show a girl in giant fuzzy boots, finish your drink.
-They show a carnival ride.
-When the sun comes up, finish your drink
Tags: drinking, drinking games, edc, electric daisy carnival
---