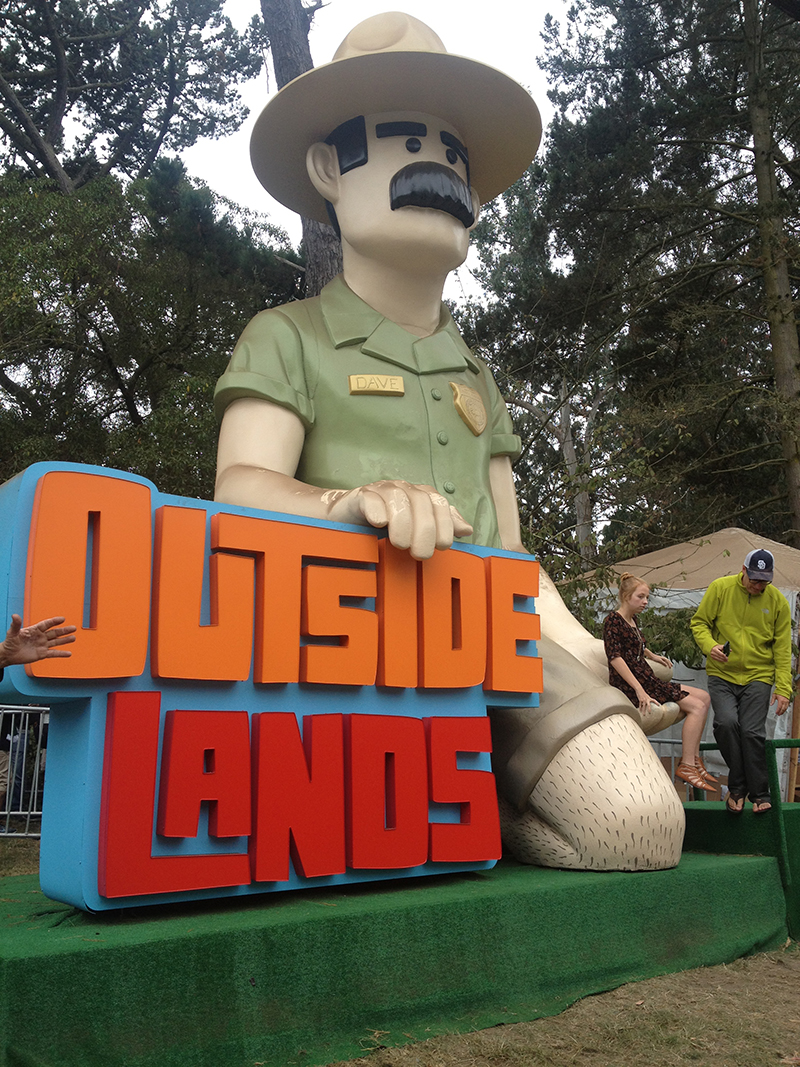 I can now say I've been to two-and-a-half Outside Lands Music Festivals, and this is definitely the best one so far.
Here's a recap of how it all went down:
Day 1
My friend and former roommate came from Colorado to see the show, and my friend and current roommate scored a free VIP ticket at the last second, like an asshole. I stood amongst the muggles as he cast his disapproving gaze from the VIP section.
First band: Run the Jewels. As I was walk in, a few people are saying, "I can hear Killer Mike," so I'm wondering if this booking wasn't a bit early in the day. I met my buddy next to the VIP fence and thought about what it means to be mediocre.
The first conflict of a truly conflict-ridden schedule: Holy Ghost! vs. Warpaint. I've never Warpaint, and although I thought that album was pretty solid, I don't think I could forgive myself for missing Holy Ghost!. Both of their full-lengths are at the top of my top 10′s from their respective years. Do you disco? I do.
Goddamnit I wish this festival wasn't 90% during the day. Fuckin' whiny neighbors. You should be thanking your lucky stars that you can hear this for free instead of giving your city council member an earful, people.
Fuck, I forgot to go to Nicki Bluhm. I coulda' gone for that…
Without question, this is one of the most well dressed festivals I've ever attended. It rivals Coachella Week 1 — fashion, not festival fashion. I see bloggers, designers, the carefully chosen wardrobes of clothing conscious connoisseurs. The costumes are few and far between.
Chromeo vs. Grouplove. Well, I saw Chromeo on Tuesday at Red Rocks in Colorado, so the choice is simple. I love a good Grouplove show. "This is a homecoming show for me," says singer Hannah Hooper. "I grew up in the Upper Haight, and I used to hang out in this park and smoke weed at a place called hippy hill," she tells us before they play the eponymous "Hippy Hill." The crowd woos their approval.
Disclosure is this generation's Daft Punk. This is without question the biggest crowd of the festival. I wasn't there, but I suspect Tegan and Sara's crowd consisted of six lesbians and a group of high school kids too young to drink, and too cool for dance music. It's about time they get some new songs, though. I've seen them probably 5 times, and it's practically always the same set. Someone tells me this is their last big stop before returning to the studio. It's about time.
You're rolling at 6PM? Sure, you can touch my shiny jacket. You know what's gonna be weird? When you're rolling at Kanye.
I laid on the hill and stared at the sky during Tedeschi Trucks Band. Her voice is cool.
Oh is that Kanye? I'll be at Arctic Monkeys not giving a fuck.
The crowd is reassuringly large — maybe rock and roll isn't dead (ha). The stage looks amazing, Alex Turner has a serious greaser thing going on — at one point he pulls a comb from his back pocket to slick his black hair back. They play some pretty serious rock and roll songs. It's amazing how much more awesome these stages look at night. Damn shame there couldn't be more of it. They played a little bit of everything, going back to my favorite album, Whatever People Say I Am, That's What I'm Not. I've heard tell of his stage presence. The rumors are true.
Day 2
Dum Dum Girls at 12:30. It's an ambitious plan: one that proves a bit too big. We do, however, manage to hear the set along our walk through the park. Waterfall, road beer, and "Rembrandt Eyes" — sad songs to serenade the overcast sky.
Well fuck, now we're here. We meet some more friends from Colorado just as The Kooks get cranking. You know what's awesome about this band? Everything. This is what good contemporary rock is all about. I've seen them countless times, and every time, I'm jumping. "Do you want to see the world? Do you want to see the world a different way?" Yes I do, Luke Pritchard. Yes I do. They've aged, they've matured, they play new songs and announce a new record this fall.
We had to miss Jagwar Ma. Conflicts, conflicts, conflicts.
Fuck, I forgot about Cristopher Owens, which sucks because I've been listening to those Girls records a bunch lately. Fuckin' Sutro.
"They're like LA's answer to Grizzly Bear," my friend says about Local Natives. She spends the rest of the time pining for the not-so-accidentally disheveled singer Andy Hamm. I have acquired some free beer from the uber-VIP though. Bottoms up.
Beer lands. Beer lands is pretty cool. You know what else is cool? Being a goddamned adult and carrying a beer around the festival. Take note Coachella. Take fuckin' note.
Deer Tick? Nope. Tycho? Nope. Haim? Uh uh. So what did we go to next? The Duck Sauce soiree on the GastroMagic stage. A-Trak played a turntabalism set while friend and chef Brandon Jew cooked Duck Sauce. This is perhaps the most special thing that happened at Outside Lands. You can see any of these bands play at other festivals. You can get great beer and food and listen to cool music. You can't see A-Trak throw out duck nuggets to the crowd anywhere else. Mind = Blown. Well done, Another Planet.
Capital Cities. I met up with a chick from the internet (don't ask) and almost immediately she poured a clear liquid she claimed was moonshine into my beer. These are the kinds of bad decisions I make regularly, these wreckless foolhardy choices. Worked out splendidly.
On to Death Cab. Yep. There they are. Oh yeah, I remember this song. Someone hand me a beer. Aaaand we're done here.
Back across the lengthy festival grounds and on to Barbra Streisand Ooooooooooooooooo. Duck Sauce brings the party. No matter how many times I've see them, it's always a good time. My friend informs me that's Armin Van Helden and not Armin Van Buren. I'm Armin Van Drunk, so I don't really give a damn. Thanks, clear liquid girl.
Are we peeing here now? Beside the fence, in full view of the 10,000 people at the bottom of the hill? Yep. Yes we are.
You know what's awesome? Anyone you meet at Tom Petty is sure to be cool when Macklemore is playing on the other stage. For those of you who went to Twin Peaks instead of seeing a legend, I want you to step back and take a long hard look at what you're doing with your life.
Fuck, Petty looks terrible. Sounds great, looks like death.
Fuuck, the heartbreakers look even worse. Someone remind these guys to take the Xanax after the show.
I feel like they just cart this guy out, hand him a guitar, and he runs through the paces like an animatronic parrot in the Tiki Room at Disneyland. I'm not sure he has a single memory of the last 25 years. It's just a blur of airplanes, busses, crowds, and drugs. I'm glad I caught him before he forgets how to be alive.
People tell me he played a Grateful Dead cover. Some of them are excited about that. I'm more excited for the free tall boy that ended up in my hand.
After the show we walk to a bar nearby and the people at our community table sing loudly (and maybe a little obnoxiously) to the classics playing overhead. I'm not too proud to sing along. Sadly, I'm the only one that knows the words to "Human Nature."
Day 3
Chvrches cancelled. Looks like we have another hour to nurse this hangover before cruising into Jenny Lewis, my must-see of the day.
We scramble, we hustle, we hear Flume from across the park, and it all pays off as we walk in exactly as the the most beautiful woman in music takes the stage. Ms. Jenny Lewis, you are truly a vision in your pretty silk suit.
I'm disappointed in the size of the crowd. What could be more important than this? Still, we walk right up to the front. I'm close enough to hear her actual voice going into the mic.
She plays three Rilo Kiley songs from Under the Blacklights. One of them is "Silver Lining," a song I once heard her introduce by saying, "This one goes out to my band," shortly after the breakup of RK. Rekt.
A security guard lights through the crowd and tackles a kid in a hoodie during one of the songs. When the track ends, Lewis says, "You got busted bro! I'm there with you," as they basically drag the kid out by his earlobes. My well-connected friend said she sees him backstage and he's missing a shoe.
Jenny brings out the members of Lucius to sing backup on "Acid Tongue." For a moment after the track, the band becomes confused about when their set ends, leaving the stage. They still have 10 minutes left, and I'll be damned if she's going to get off this stage without playing, "She's Not Me."
She's playing "She's Not Me." I call this festival a success.
I love Spoon, but we opt for Lykke Li. I've never seen a full set from the swedish princess, and now seems like as good time as any. They're all in all black. It's hot, and the sun is directly in their face. I admire their fortitude as they press through their set. One commentary: Less talky, more music.
Is that girl peeing there, right next to the ambulance. With the ambulance drivers still in the ambulance? In front of the mob of people walking by? Why yes, it is.
"We should probably go to the Flaming Lips." "I know but it'll probably be boring." My hunch proved true. Oh weird costumes? Great. Funny characters? Thrilling. 8 minute songs that drone on about nothing? Fuck it, let's go to Cut Copy.
This is probably the biggest crowd I've seen on the Twin Peaks stage. It's a typical Cut Copy set. "We're going to make this the best moment of the whole fucking festival," singer Dan Whitford says with lofty ambition.
This might be the best moment of the whole goddamned festival. Just kidding, there aren't even any duck nuggets.
The crowd definitely stretches back well beyond Wine Lands (of course they have wine lands. It's next to Cheese Lands), definitely to  the panhandle stage.
We walk past the GastroMagic stage again, and lo-and-behold, another awesome thing. The guy from Hot Tub Time Machine is playing drinking jeopardy with two teams of four. One team is considerably drunker than the other team. They answer with the acumen of a stoned 15-year-old. It's a slaughter, both in the comedy and the points. Again, GastroMagic stage for the win.
We catch the end of Ray LaMontagne. I really do love this guy, but at this point in the evening, his rich, soulful songs contrast with my research into the effects of alcohol (conclusion: "When taken in sufficient quantities, [it] produces all the effects of intoxication").
 We mosey over to the Killers and move in deep on the left side. I'm from Las Vegas, I go to countless shows and festivals, and this is the first time I've ever seen one of the biggest rock bands in the nation.
There's been a lot of questions about Brandon Flowers' sexuality. Let's put it this way, if he was trying to escape detection by blending into a crowd, his best chance for anonymity would be inside Badlands in the Castro.
Ronnie Vannucci Jr. is wearing a shirt that says "fuck cancer." I used to see this guy in his former ska band, Attaboy Skip when I was in middle school, and it looks like he's only gotten cooler.
I gotta say, they do know how to crush. Everyone knows all the words and sings along.
They play two covers: "Sitting on the Dock of the Bay" and "Bad Moon Rising" — the latter in tribute to the full moon that hung above the packed polo field.
I can see the lights from Tiesto flashing in the distance. I know he's a big deal, but the number of fucks I give about his career aligns pretty closely with Brandon Flowers' interest in vaginal intercourse.
And with that the festival draws to a close. We mosey out to the street and crowd on to a packed shuttle bus that drops us downtown. The people on it sing songs about a guy named Dan.
See you next year, Outside Lands.
Tags: a-trak, arctic monkeys, capital cities, chromeo, chvrches, cut copy, death cab, deer tick, disclosure, duck sauce, dum dum girls, festivals, flaming lips, grouplove, haim, holy ghost!, jagwar ma, jenny lewis, kanye, killer mike, local natives, lykke li, nicki bluhm, outside lands, ray lamontagne, recap, run the jewels, spoon, tedeschi trucks, the killers, the kooks, tom petty, tycho, war paint
---